Vancouver, British Columbia, March 28, 2023 (GLOBE NEWSWIRE) — NevGold Corp. ("NevGold" or the "Company") (TSXV:NAU) (OTCQX:NAUFF) (Frankfurt:5E50) is pleased to announce results from the Company's 2022 surface exploration program at its district scale 93 km2 Ptarmigan project located in southeast British Columbia (the "Project"). The 2022 work program was focused on advancing the Project to the "drill ready" stage.
Key Highlights
High Grade Silver Mineralization (up to 3,188 g/t Ag) Over 140 Meters South of Previous Drilling: samples of 3,188 g/t Ag (and 0.22% Cu, 29.4% Pb) and 492 g/t Ag (and 0.2% Cu, 4.6% Pb, 1.4% Zn) were collected at surface over 140 meters and 250 meters respectively from the historical drill collars. (Figure 2) These samples identified additional surface mineralization south of the historical mine workings and define a mineralization trend of nearly 2 kilometers. Historical drilling occurred in a tightly constrained area of less than 1 km2 with results including:

3.65 m of 2,455 g/t Ag, 1.00 g/t Au, 0.91% Cu

Includes 0.33 m of 22,945 g/t Ag, 5.75 g/t Au, 8.24% Cu

1.16 m of 2,315 g/t Ag, 1.64 g/t Au, 1.10% Cu
6.80 m of 452 g/t Ag, 0.52 g/t Au, 0.26% Cu
3.69 m of 635 g/t Ag, 0.82 g/t Au, 0.33% Cu
6.41 m of 96 g/t Ag, 0.36 g/t Au, 0.20% Cu, 3.70% Pb

Copper Surface Anomaly Extends Over 9 Kilometers: additional surface sampling has located anomalous copper values over 2.3 kilometers northwest of historical drilling in an area not previously sampled. The established copper anomaly now stretches over 9 kilometers, nearly the entire length of the property. (Figure 3)
Additional High-Grade Drill Targets Identified: the 2022 field work identified a number of exciting high-grade drill targets both on trend from previous drilling and in new areas corresponding with geochemical and geophysical anomalies. Future drill programs will be planned to target both polymetallic (silver, lead, zinc) and copper mineralization.
Current Strategic Review of Ptarmigan: with NevGold's increased platform of high-grade, oxide, heap-leach gold in the Western USA, the Company is reviewing various strategic alternatives for Ptarmigan after receiving many expressions of interest from external parties over the past 12 months. Ptarmigan has material value that is not currently being recognized in NevGold creating an opportunity to extract value for NevGold shareholders. The Company is open to further expressions of interest from external parties.
NevGold CEO, Brandon Bonifacio, comments: "Although NevGold has been laser focused on establishing ourselves as a "go-to" oxide, heap-leach gold resource development company in the Western USA, we have applied our technical skillset to systematically advance Ptarmigan to the drill-ready stage. Ptarmigan is an extremely high-grade, polymetallic district scale project in southeast British Columbia, and when we inherited the project as part of the public listing of the company back in 2021, it was clear the project had material value to unlock. Ptarmigan has over 14,000m of historical drilling, robust geochemical and geophysical analysis, and other critical data layers completed. We have supplemented the initial geological database with our 2022 field program and the project is now "drill-ready" with a number of high-quality drill targets. We are advancing our highly anticipated inaugural drill program at Nutmeg Mountain in Idaho according to schedule, and first assays are expected shortly."
NevGold VP Exploration, Derick Unger, comments: "It is exciting to identify additional surface expressions of high-grade mineralization at Ptarmigan. The consistent high-grade silver values that we see on surface and in the historical drillholes indicate the presence of a robust mineralizing system. Our systematic exploration program over the past year and a half has focused on advancing the project by developing additional drill targets with high-grade potential.The recognition that there is a large trend of anomalous copper in surface samples along with the high-grade silver, lead, zinc mineralization is an exciting development that we will continue to explore."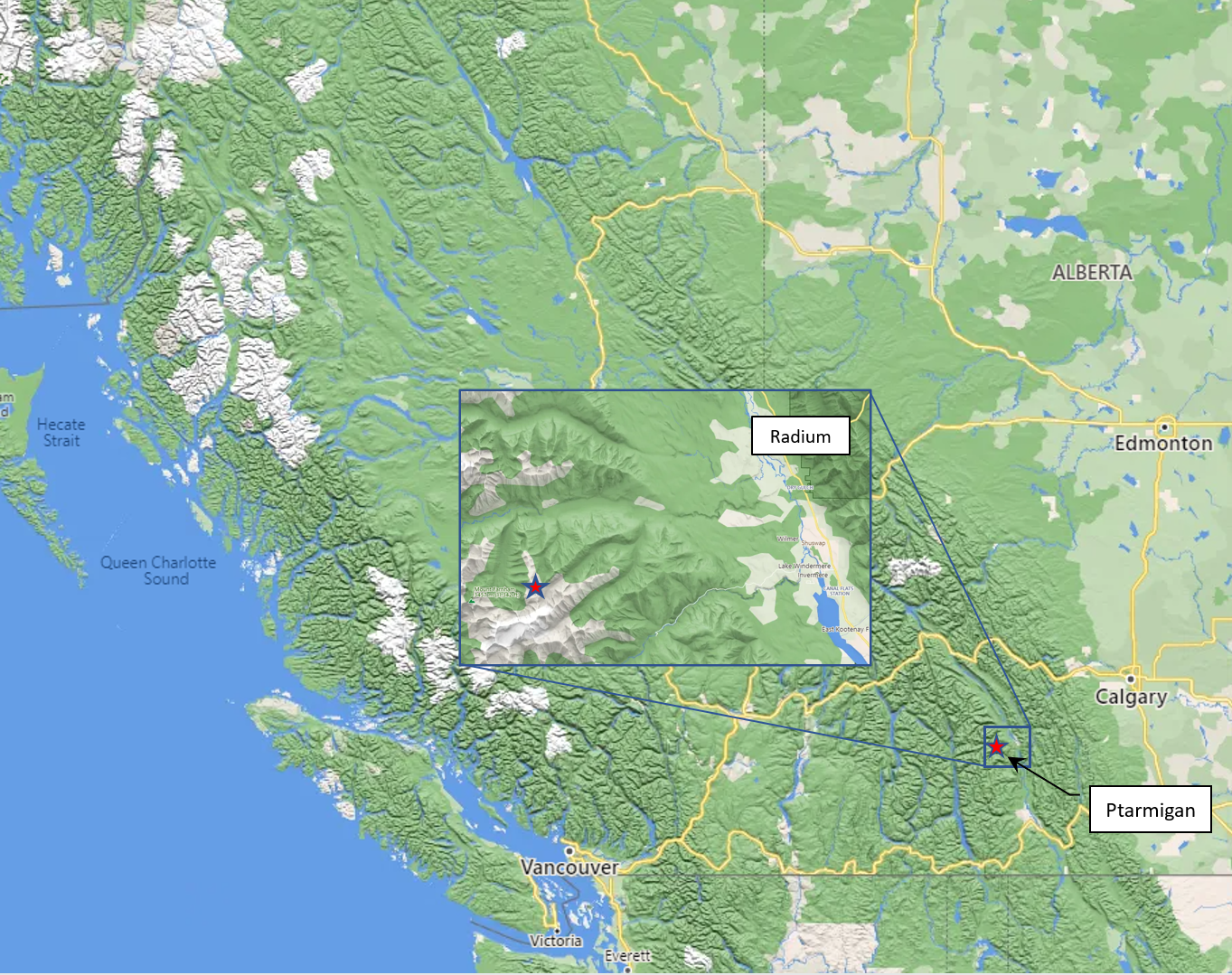 Figure 1 – Location of the Ptarmigan Project. To view image please click here
Figure 2 – Plan map showing 2022 rock chip samples along with historical rock chip samples and historical drill collars in the area around the past-producing Ptarmigan mine. Rock chips samples define a trend of outcropping mineralization that extends nearly 2–kilometers with only a small portion having been tested with drilling. To view image please click here
Figure 3 – Property wide map showing the newly defined 9-kilometer copper trend in rock chip samples collected by NevGold and prior operators. To view image please click here
2022 Field Program Summary
The focus of the 2022 field exploration program was to test for new areas of mineralization not identified by previous operators. The combination of field mapping and sampling, reinterpretation of geophysics data, and compilation of historical data including drilling data identified new targets and confirmed the existence of large trends of high-grade mineralization on the Project.
Previous operators focused on outcrop exposure at surface and defined a strong, high-grade mineralized system. The focus of NevGold's exploration program was filling in gaps in the data, and more importantly, sampling lower elevation areas with thick forest cover. While these forested areas are more difficult to explore, they represent the best opportunities for new discoveries, which was confirmed by the success of the Company's first field season at the Project.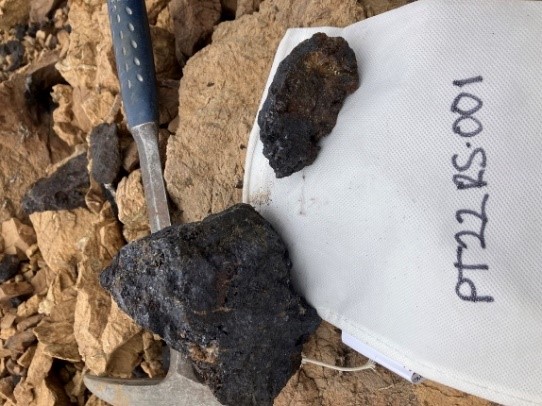 Figure 4 – Sample PT22RS-001 highlighting abundant galena weathering out in float at the top of a ridge. Galena is likely proximal to its source, being located at a topographic high. To view image please click here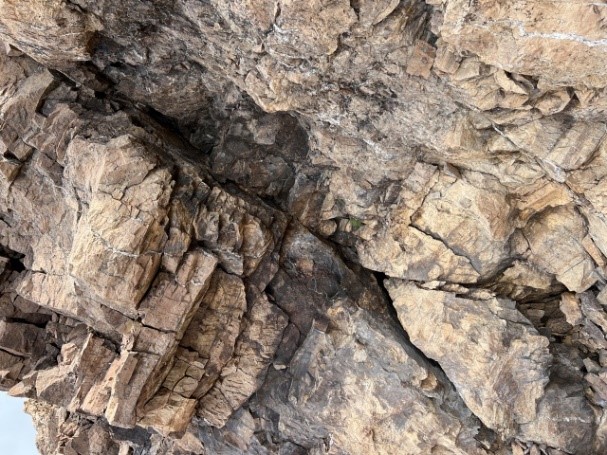 Figure 5 – A high-angle fault is visible in the cliff face, with abundant massive galena weathering in large chunks. A stockwork of quartz and galena veinlets can be observed in both the hanging wall and footwall host rock. This is the possible surface exposure of a silver-base metal vein system. To view image please click here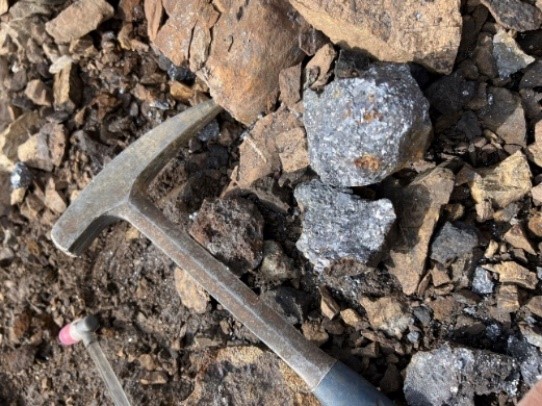 Figure 6 – Sample PT22RS-032 with massive galena weathered out of the fault seen in Figure 5. To view image please click here
2022 Rock Chip Sample Table
Sample
ID
Easting
Northing
Ag ppm
Cu ppm
Pb ppm
Zn ppm
PTRS22-001
542102
5593358
492.0
2,005.7
46,062.0
14,299.0
PTRS22-004
542407
5598899
6.0
24.6
624.0
231.0
PTRS22-007
542263
5598870
1.5
7.3
113.0
37.0
PTRS22-008
542220
5598866
0.6
1.2
83.0
24.0
PTRS22-009
542198
5598865
(0.3
)
0.9
64.0
19.0
PTRS22-010
542174
5598871
1.5
12.6
137.0
54.0
PTRS22-011
542168
5598860
0.4
24.5
43.0
23.0
PTRS22-012
542025
5598866
(0.3
)
(0.5
)
36.0
22.0
PTRS22-013
541808
5598802
2.0
38.0
234.0
139.0
PTRS22-014
541794
5598853
0.5
10.7
43.0
59.0
PTRS22-016
540376
5596944
(0.3
)
(0.5
)
26.0
26.0
PTRS22-017
540380
5596963
(0.3
)
1.1
26.0
34.0
PTRS22-018
540424
5597017
3.2
1,684.9
22.0
44.0
PTRS22-019
540483
5597036
(0.3
)
87.2
48.0
24.0
PTRS22-020
540503
5597047
(0.3
)
87.2
29.0
204.0
PTRS22-021
540547
5597128
(0.3
)
605.2
18.0
59.0
PTRS22-022
540555
5597179
(0.3
)
27.5
30.0
50.0
PTRS22-023
540502
5597273
(0.3
)
4.5
15.0
9.0
PTRS22-024
540380
5597158
0.4
141.9
15.0
144.0
PTRS22-026
539773
5600496
(0.3
)
(0.5
)
19.0
15.0
PTRS22-028
539706
5600447
(0.3
)
19.1
18.0
4.0
PTRS22-029
539689
5600432
(0.3
)
5.3
25.0
77.0
PTRS22-030
539516
5600353
(0.3
)
6.6
48.0
10.0
PTRS22-032
542041
5593472
3,188.0
2,163.9
293,503.0
399.0
PTRS22-035
540356
5596533
20.5
12.2
3,842.0
12.0
PTRS22-036
540437
5596608
3.8
1.8
750.0
13.0
PTRS22-037
540455
5596603
11.0
27.1
2,105.0
23.0
PTRS22-038
540538
5596594
1.1
5.3
204.0
28.0
PTRS22-039
540566
5596597
0.7
1.4
143.0
15.0
PTRS22-040
540635
5596615
0.8
197.8
114.0
117.0
PTRS22-041
540639
5596613
19.2
973.6
3,039.0
34.0
PTRS22-042
540668
5596594
13.3
35.9
2,320.0
111.0
PTRS22-043
540689
5596587
0.6
5.5
88.0
23.0
PTRS22-044
540776
5596598
0.4
9.4
69.0
39.0
Table 1 – Selected rock chip samples from NevGold's 2022 field season with silver, copper, lead and zinc analysis. A full suite of multi-element analysis was completed for each sample to test for trace-elements as well as commodity metals.Note: all coordinates are in WGS84 UTM meters Zone 11U, analysis values in parentheses represent values that are below detection limit.
ON BEHALF OF THE BOARD
"Signed"
Brandon Bonifacio, President & CEO
For further information, please contact Brandon Bonifacio at bbonifacio@nev-gold.com, call 604-337-4997, or visit our website at www.nev-gold.com.
Sampling Methodology, Chain of Custody, Quality Control and Quality Assurance: All sampling was conducted under the supervision of the Company's geologists and the chain of custody from the Project to the independent sample preparation facility, American Assay Labs in Sparks, NV, was continuously monitored. The samples were crushed, pulverized and sample pulps were analyzed using industry standard fire assay and multi-element analysis methods.
Technical information contained in this news release has been reviewed and approved by Derick Unger, CPG, the Company's Vice President, Exploration, who is NevGold's qualified person under National Instrument 43-101 and responsible for technical matters of this release.
About the Company
NevGold is an exploration and development company targeting large-scale mineral systems in the proven districts of Nevada, Idaho, and British Columbia. NevGold owns a 100% interest in the Limousine Butte and Cedar Wash gold projects in Nevada, and the Ptarmigan silver-polymetallic project in Southeast BC, and has an option to acquire 100% of the Nutmeg Mountain gold project in Idaho.
Neither the TSX Venture Exchange nor its Regulation Services Provider (as that term is defined in the policies of the TSX Venture Exchange) accepts responsibility for the adequacy or accuracy of this release.
Cautionary Note Regarding Forward Looking Statements
This news release contains forward-looking statements that are based on the Company's current expectations and estimates. Forward-looking statements are frequently characterized by words such as "plan", "expect", "project", "intend", "believe", "anticipate", "estimate", "suggest", "indicate" and other similar words or statements that certain events or conditions "may" or "will" occur. Such forward-looking statements involve known and unknown risks, uncertainties and other factors that could cause actual events or results to differ materially from estimated or anticipated events or results implied or expressed in such forward-looking statements. Any forward-looking statement speaks only as of the date on which it is made and, except as may be required by applicable securities laws, the Company disclaims any intent or obligation to update any forward-looking statement, whether as a result of new information, future events or results or otherwise. Forward-looking statements are not guarantees of future performance and accordingly undue reliance should not be put on such statements due to the inherent uncertainty therein.