Toronto, Ontario–(Newsfile Corp. – November 20, 2023) – Happy Belly Food Group Inc. (CSE: HBFG) (OTCQB: VGANF) ("Happy Belly" or the "Company"), a leading consolidator of emerging food brands is pleased to announce the signing of an area development agreement for the province of Alberta for the opening of 20 franchised restaurants of Rosie's Burgers ("Rosie's"), a boutique QSR restaurant brand serving original recipe smash burgers, poutine, onion rings, milkshakes and more.
"Building upon the momentum of last weeks announcement of a 30-unit area development agreement for Ontario, we have now signed as of November 19th, 2023 a second area development agreement that will see an additional 20-units of Rosie's Burgers under development in the province of Alberta," said Sean Black, Chief Investment Officer of Happy Belly.
"We are teaming up with our west coast Area Developer Stephen Travers, who is already overseeing the franchise growth of our Pirho Fresh Greek Grill and Heal Wellness brands. Stephen brings a 20-year track record working with us in establishing dozens of locations across our previous brands out west. He is a key element of executable success to Happy Belly and will enable us to continue our accelerated asset-light franchise growth across our portfolio of brands."
"Utilizing both our area developers and our team's deep knowledge of the burger category, we have firmly set the course of our Smash Burger brand Rosie's Burgers to have a true growth trajectory over the next several years, having a combined 50 units in development between Ontario and British Columbia. This does not include organic interest that we have already received since entering the burger category just a few short weeks ago."
"This is another step forward in our mission to become a predictable and disciplined growth company. Happy Belly now has commitments for two hundred and ten (210) franchised units with area developers across four (4) brands within three (3) provinces in Canada. We are just getting started with our growth here at Happy Belly as 2024 is shaping up to be a truly pivotal year for the company."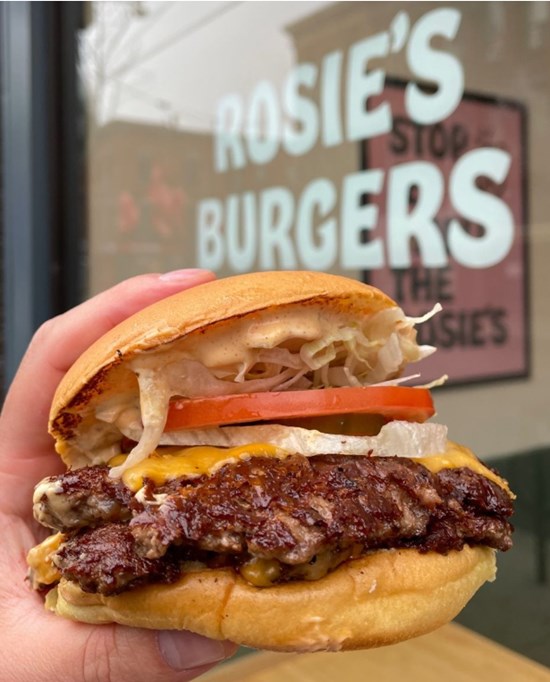 Rosie's Burgers
To view an enhanced version of this graphic, please visit:
https://images.newsfilecorp.com/files/6625/188016_a453944d04c8fae7_001full.jpg
"Our approach has always been to focus on the development and growth of emerging brands in the food sector. Rosie's Burgers is an accretive acquisition by Happy Belly Food Group, and it is anticipated that our franchising program will deliver new franchised locations that will continue to drive both the top line and bottom line of the company."
For franchising inquiries please see www.happybellyfg.com/franchise-with-us/ or contact us at hello@happybellyfg.com.
About Happy Belly Food Group
Happy Belly Food Group Inc. (CSE: HBFG) (OTCQB: VGANF) ("Happy Belly" or the "Company") is a leading consolidator of emerging food brands.
Happy Belly Food Group
Shawn Moniz
Chief Executive Officer
FOR FURTHER INFORMATION, PLEASE VISIT:
www: www.happybellyfg.com or email hello@happybellyfg.com
If you wish to contact us please call: (604) 737-2303.
Neither the Canadian Securities Exchange nor its Regulation Services Provider (as that term is defined in the policies of the Canadian Securities Exchange) accepts responsibility for the adequacy or accuracy of this press release, which has been prepared by management.
Cautionary Note Regarding Forward-Looking Statements
All statements in this press release, other than statements of historical fact, are "forward-looking information" with respect to the Company within the meaning of applicable securities laws. Forward-Looking information is frequently characterized by words such as "plan", "expect", "project", "intend", "believe", "anticipate", "estimate" and other similar words, or statements that certain events or conditions "may" or "will" occur, and include the future performance of LumberHeads Food Co. Forward-Looking statements are based on the opinions and estimates at the date the statements are made, and are subject to a variety of risks and uncertainties and other factors that could cause actual events or results to differ materially from those anticipated in the forward-looking statements. There are uncertainties inherent in forward-looking information, including factors beyond the Company's control. There are no assurances that the business plans for Happy Belly described in this news release will come into effect on the terms or time frame described herein. The Company undertakes no obligation to update forward-looking information if circumstances or management's estimates or opinions should change except as required by law. The reader is cautioned not to place undue reliance on forward-looking statements. For a description of the risks and uncertainties facing the Company and its business and affairs, readers should refer to the Company's Management's Discussion and Analysis and other disclosure filings with Canadian securities regulators, which are posted on www.sedarplus.com.